Nandu's new RAAPCHICK -REMIX (Marathi) album "Spicy Mango" released.
Article "Memories" in "Studio Systems" may-june issue (added on July 29, 2000).
A note from Nandu (added on June 5, 2000):
My parents, Asha and Atmaram Bhende, will be celebrating their 50th Wedding Anniversary on 9th June 2000. On this occasion I would like to share with you excerpts from a letter that my Mother found recently. This was written to her 50 years back by her elder brother, Nissim Ezekiel, who was in England at that time.
Excerpts from the letter (the original letter in its entirety is shown below):
9th May'50
My dear Lily, My fondest wishes that you will make something rich and beautiful of your married life. Don't be sparing in your efforts to regard it always with fresh eyes, accept all the demands it makes on you. Remember always that the relationship is more important than you or your future husband. It is wisest to treat it as a third entity which has to be reared slowly and carefully like a tender plant. Giving your all to the marriage you will find that marriage in its turn will give you all it has to offer. And what any relationship offers to us, when treated in this way, is nothing less than the plenitude of happiness. I have nothing more to say to you as you stand ready to enter this great world of opportunity and adventure.
Fraternal greetings and love.
Nissim
The original Letter (point mouse to read the flip side):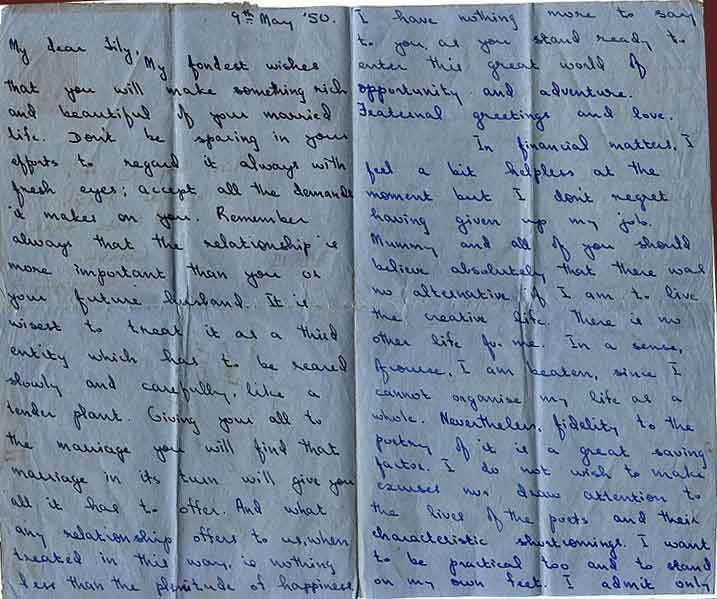 ---