Spicy Mango - Raapchick Marathi Remix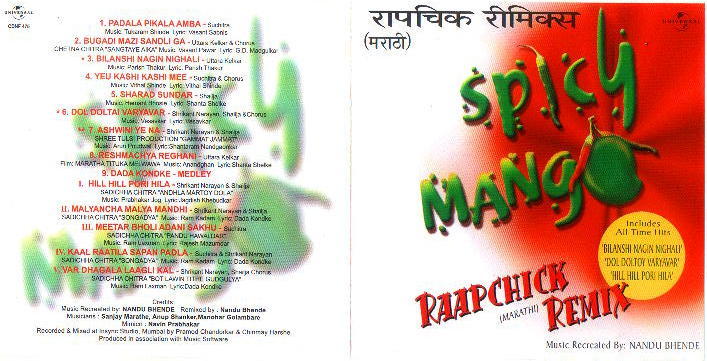 Nandu Bhende, the pioneer of Hindi Pop/disco remix non-stop albums in the eighties like Disco Duniya, Disco Nasha etc. recently released his first Marathi remix album "SPICY MANGO-RAAPCHIK MARATHI REMIX. The highlight of the album is the care taken to preserve the original musical identity of the famous Marathi hits while enhancing them with the latest western beats.
The album includes famous Lavanis like 'PADALA PIKALAY AMBA', 'BUGADI MAZI', 'YEU KASHI NANDAYALA', 'RESHAMACHYA REGHANI' along with other hits like 'BILANSHI NAGIN NIGHALI', 'DOL DOLTAY' and features an extra ordinary Hip-Hop version of the 'SHARADA SUNDERA' The album includes the delightful 'DADA KONDKE' Medley and the hilarious dialogues are sure to entertain one and all. Following the dictum 'Music has no language', this album is sure to entertain people from different regions and languages besides Maharashtra.
The singers featured on 'SPICY MANGO' include the famous Uttara Kelkar, Shrikant Narayan, Suchitra Bhagwat and the rising star Shailaja Subramanyam along with the outstanding mimicry of Navin Prabhakar. The album has been recorded at Nandu's very own state of the art 64 track INSYNC Studios.

Marathi resources on the web
---